Democracy must always be defended!
The war in Ukraine is a tragedy that will cause so much suffering for Ukraine and its people. It is completely incomprehensible to most of us how this attack from Russia on Ukraine could have taken place.
Freja Forum will continue its work for peace, democracy and human rights.
Please click here  to make a donation to support the women in Ukraine!
Freja Forum is a forum for democracy, equal opportunities and sustainable development goals.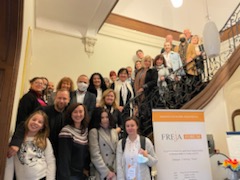 Perspectives on Freja Forum 2021 
Freja Forum celebrated 15 years the 12-14th November in Brussels!
The first Freja network was created in the 1990s during the war in the former Yugoslavia. The work was based on women from different non-profit organizations coming together to share knowledge and ideas about democracy, equality and reconciliation and to discuss women's specific situation during and after the war.
Freja Forum is inspired by Almedalen Week and wants to be a platform open to everyone to discuss democracy, gender equality and strengthen civil society. In 2017, Freja Forum was nominated for the Nobel Peace Prize.
With this background we found it important to try to have a physical meeting in Brussels to invite some of the women and men who have participated in the work during the 15 years. The event with celebrations was a success!
It is so important to meet  each other sometimes, not just have meetings digitally.  Friendship, understanding, democracy  and peace are built  on people meeting and building relationships.
But honestly, the preparations were extremely different to all my previous experiences of event planning. Since the end of September, all time has been spent learning all about covid restrictions and covid testing for participants from the Western Balkans and EU countries.
Every country has different rules, the rules change continuously and one day the green light to travel the next day is great uncertainty.We made a system to monitor changes and ensure that we were prepared to handle all types of situations
Everything went well in the end. Everyone is home again and healthy. We have developed knowledge of "covid management"  at international events. Knowledge that we hope we will NOT need to use again.
The history of Freja Forum
The history of Freja Forum started in the late 1990s.
Networks of women in five of the countries of the Western Balkans started projects for democracy and equal opportunities.
Inspired after a visit to Almedalen Week (Sweden) in the early 2000s, Freja Forum was created as an annual forum to develop the work with democracy and equal opportunities.
This annual meeting is our largest event. It takes place every year in November, in a country in Balkan, in Brussels or sometimes another European city.
The Forum 2020 was digitally with Tirania, Albania as host. It was our fourteenth in a row!